At the heart of Captain Jack lies an indoor aviation paradise where fun and interactive experimentation go hand in hand. 
In the departure hall children and their (grand) parents or teachers check in for an unforgettable journey. 
In the amusement park children can have a ball in the carrousels and flying fire extinguishers, explore a zeppelin, learn how to control a plane in a flight simulator and climb the control tower. 
Visitors play the starring role in the airport of their dreams. As they progress around the park they gain insights into aviation techniques and pick up knowledge on aviation history without even realising it.
In addition to the attractions there are interactive displays illustrating which scientific phenomenon or technical application is used in the attraction. For example, beside the zeppelin there is a hot-air balloon which visitors themselves can cause to rise by warming the air below. 
The experiments and attractions follow the evolution in aviation: from the first attempts to fly and pioneering pilots to the latest solar-powered aircraft. Along the way interactive displays tell more about the flying machines sketched by Leonardo da Vinci, the Wright and Montgolfier brothers, the pioneering flights of Amelia Earhart and other highlights and heroes from the world of aviation. 
From the restaurant there is a great view and you can see the children playing. All meals are freshly prepared using local, organic and healthy ingredients. At Captain Jack the food and drink is both tasty and sustainable.
From the early days of commercial aviation until 2007 the Boeing 747, nicknamed the Jumbo Jet, was the world's largest passenger plane. It transported millions of passengers. The fleet is now gradually making way for new aircraft. One third of all Boeing 747s is still in use, in particular for cargo flights.

Jack Schoepen has a soft spot for aviation. As a child he preferred playing with planes to cars. Later, as a young man, he wished to become a pilot and even took flying lessons. It breaks Jack's heart to see magnificent Jumbo Jets going to rack and ruin in the desert. In his opinion, it is a real shame to scrap the planes and recycle only a few components.

Thanks to Captain Jack® two Jumbo Jets will be given a new lease of life, not to mention an upgrade. Using the most modern techniques and meeting today's levels of luxury, one is being refurbished as a hotel: the Jumbotel®, while the other is to hold various meeting rooms: Jumbobizz®.

If you stand under such an aircraft you can't help but be in awe of its width (60 m), height (over 19 m) and length (70 m).

The way the two Jumbos are configured is unique. Nowhere but Captain Jack® can you find two Boeing 747s permanently side by side.

In the Jumbotel® you sleep in the belly of this immense passenger aircraft. You can choose between a comfortable family room (35 m2), standard twin room (30 m2), six-person room with stairs to the upper deck or a luxury suite (50 m2) in the nose or tail of the Jumbo Jet. In the morning you will enjoy an extensive breakfast buffet, featuring local and freshly-picked products.

During your stay you can take some air on the mighty wing deck or take a selfie in the cockpit.
JumboBizz® offers all the appropriate office facilities and has two meeting rooms accommodating ten people, one seating 74 or two larger ones suitable for 90 people. The view from the wing deck or from the plane windows is breathtaking.

You can also admire and photograph the impressive Jumbos from ground level.

A lift gives access to both aeroplanes.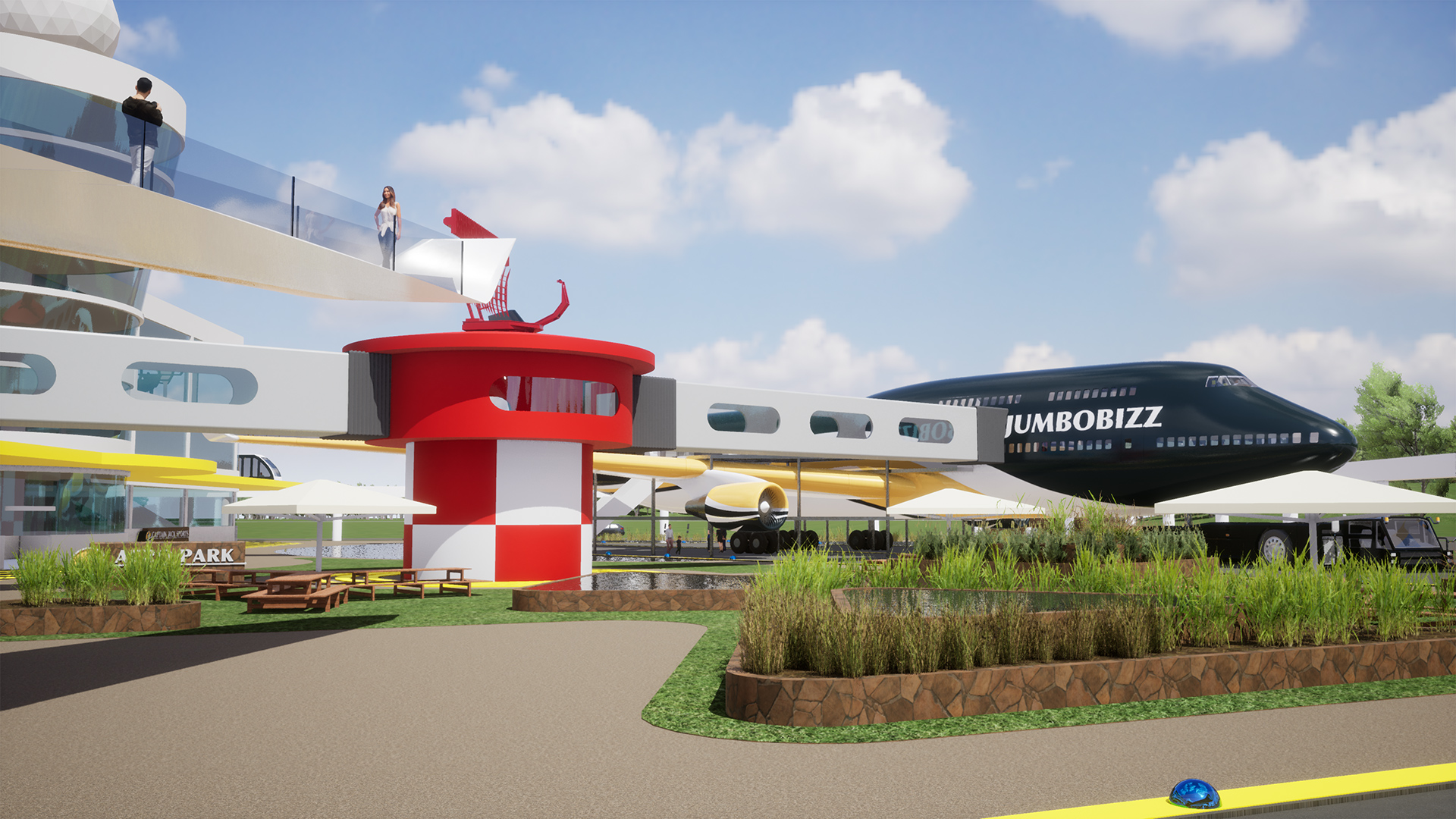 This four-star hotel at Captain Jack® is just the spot to spend the night in style. Like Jumbotel®, Aerotel also offers every comfort. The guest rooms are spacious and look onto the inner courtyard garden. The interior is reminiscent of the fifties and sixties.
Guests can choose between different lounges and outside patios complete with garden and fountains.
The extensive breakfast buffet is healthy and freshly prepared with local products.
On the top floor of the Aerotel you will also find wellness facilities. Take a swim around the ring-shaped roof-top pool, and there's an indoor pool for our younger visitors.
The wellness area includes a whole range of saunas, jacuzzis and steam baths for some real relaxation.
The wellness and swimming pool are also open to visitors not spending the night.
Indoor Skydiving is now considered a proper sport and is recognised by the World Air Sports Federation. Increasing numbers of people train regularly or take part in flying competitions.

In the wind tunnel you can experience the feeling of flying, falling and floating.

Children and those with restricted mobility are also able to have a go and everyone can enjoy a fabulous flying feeling. It is like a free fall, but without the risks, stress or fear of jumping out of a plane.

Beginners and professionals are all welcome, independently or in a group. The wind speed in the turbine reaches up to 300 km/hour.

Each new participant is briefed intensively and receives guidance from an experienced instructor.

Skydiving is the ideal family excursion or group activity. You are sure of a real buzz every time thanks to the amazing sensation of flying through the wind tunnel. 
The Sky Climb is a space for climbing where aviation is combined with adventure and sport. Children and adults clamber on the back of an aircraft, up fire ladders and on steep and overhanging walls.

There's a hole in the roof allowing you to jump down, known to para commandos to as a 'wing'. This is a kind of wheel that brakes your fall, simulating a parachute jump. Springers all land in their own zone: the 'pit', and cannot collide on the way down. The fall feels realistic and thrilling. Of course, Captain Jack® takes all the necessary precautions to ensure that everything is conducted safely. After the fall, jumpers clamber out of the 'pit' themselves.

The challenge suits both beginners and experienced climbers, and their courage and skills are put to the test.

Offering routes with difference skill levels, the Sky Climb is ideal as a sporty (class) excursion or teambuilding. Climbing clubs are also in their element here. Some routes focus on fun and adventure, whilst others require climbers to master specific techniques or reach particular targets in order to complete the course. And a fire or the threat of danger means it's time to take your climbing techniques to a new level.

Experienced instructors coach groups and individual climbers to get the most out of the experience. You may be challenged to complete your climb within a certain time, while a different setting means teamwork is required to reach a higher level, or perhaps you will face a scary situation from which you or your team must all escape.

Afterwards, climbers and skydivers meet up in the bar for a drink and a snack and to share their adventures.
Bobbejaan and Josée Schoepen encouraged their son Jack to design an amusement park around the theme of aviation. Jack was even given his own Tupolev to furnish as an educational space for children in Bobbejaanland.

In doing so Bobbejaan wished to encourage schools to return to the family park. Sadly this was never achieved: Bobbejaan died in 2010, Josée three years later.

Thanks to support from his parents and efforts from his crew, Jack's dream is now being fulfilled.

In the Bobbejaan Hall of Fame Jack pays tribute to his parents. Besides being an entrepreneur, his endearing Dad was also a singer, musician, performer and whistler, while his stunning Mum was a model and opera singer prior to her career in Bobbejaanland.

The Bobbejaan Hall of Fame will feature a permanent exhibition about his parents.

The multipurpose hall provides plenty of space for dancers, actors, singers, acrobats and musical stars to shine on the stage. There is room for 800 spectators. The programme targets a young and older audience with concerts and musicals plus theatre and dance shows.
The Sky Tower is an educational tower measuring 45 metres high. It is an educational centre about aviation for adults and young people from the age of twelve. In particular, the scientific hands-on centre illustrates physics phenomenon and how these affect aviation.

In workshops and demos you can discover what's behind scientific phenomena in aviation, see demonstrations of action/reaction, centrifugal force, aerodynamics, meteo, lift, levers, torque, Coriolis force and Bernouilli's principle. You can learn by conducting your own fun experiments.

The interactive arrangements capture the imagination and encourage visitors to start experimenting. As you pass through the exhibition you will discover a range of scientific phenomenon relating to aviation and flying. Who knows, it might even sow the seeds for a technical or scientific career later on.

Teachers from visiting schools can download additional educational material with which to prepare the visit in the class and go into more depth afterwards.

You can reach the tower by Sky Rail, on foot or by bike. There are separate, partitioned bike parks accessed down a slope from the fietsostrade. The Sky Tower is also directly connected to the Aerotel making it an easy walk.

For the price of a drink you can visit the Sky Tower, where the lift takes you to the top in a flash and rewards you with wonderful views over the local area. Fit and environmentally-friendly visitors can take the stairs.

The Sky Tower offers a range of healthy snacks and drinks.
The monorail connects all Captain Jack® locations and links up with the nearest public transport.

It travels fast and securely at a height of five metres taking you to and from the different locations: a ticket is included in Captain Jack's® admission price.